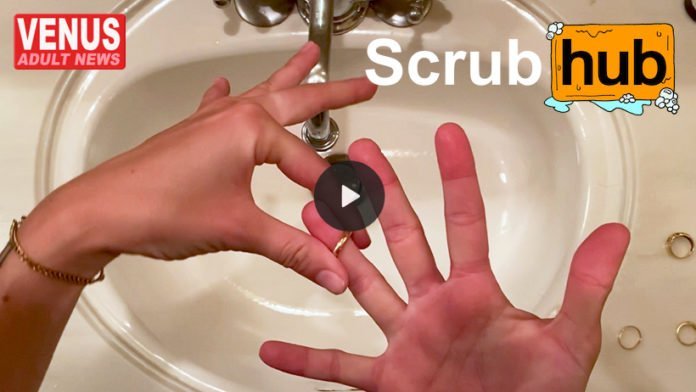 Pornhub has created a parody website with a more serious backdrop. On the page, there are dozens of videos of porn stars washing their hands properly. The titles of the videos parody popular porn titles and genres.
Together with Ani Acopian and Suzy Shinn, the producers of the satirical site Amazon Dating, Pornhub has set up a special video page showing videos of celebrities and porn stars washing their hands. The aim is to draw attention to the special importance of handwashing in the fight against the spread of the new coronavirus.
Countless videos and a six-hour daily live stream feature sometimes more, sometimes less well-known celebrities, comedians, musicians and porn stars washing their hands. Among the top stars to be seen on the portal washing their hands are Asa Akira, Austin Wolf, and Angela White.
In addition to the fun PR campaign for washing hands, the site also collects donations to support organizations involved in the fight against COVID-19. The donations go to Invisible Hands, an initiative that carries out shopping for elderly people during the Corona crisis, and to Frontline Foods in Los Angeles, which is dedicated to providing healthy food for medical staff.
Commenting on the campaign, Pornhub's VP Corey Price said: »Over the past few weeks, the one thing that has been repeated by literally everyone – politicians, scientists, celebrities and athletes – has been the importance of washing your hands thoroughly with soap and water to protect against this virus. Some people have encouraged singing songs with earworm effects – Beyonce's 'Love on Top' chorus for example – some have promoted hashtags for social media challenges and others have created comical memes that riff on mainstream and internet culture.«
Price explains: »We thought this presented a unique opportunity for us to bring some joy to something that has become so mundane and repetitive. We love working with talented creatives – in this instance alongside Ani and Suzy – and are proud to debut Scrubhub. Sometimes, lighthearted content can be cathartic and help foster a sense of social cohesion. Let's all come together and do our part to stay safe and ultimately defeat this virus.«
Producers Acopian and Shinn have already made headlines with another satirical project. Their parody website Amazon Dating was a huge success and has prepared the two for their collaboration with Pornhub.
The two media producers comment on the cooperation with the porn giant: »Scrubhub started as a fun idea that thanks to Pornhub's platform, we've turned into a destination for creativity and connection for the greater good. We're proud to be partnering with our friends at Invisible Hands and Frontline Foods to make a difference and raise money for those affected by COVID-19.«
In the future, Pornhub plans to support other charities and is collecting suggestions. Anyone who is interested can send their idea to the email address [email protected]. You can find the Scrubhub website here.