The Big Easy, LA — DomCon New Orleans, the premiere professional and lifestyle Domination convention has confirmed the Official DomCon Second Line Parade is on for this year and announced guests of honor for the event. The exposition will be October 27-30, 2022 at the Astor Crowne Plaza Hotel, 739 Canal Street, in the historic French Quarter.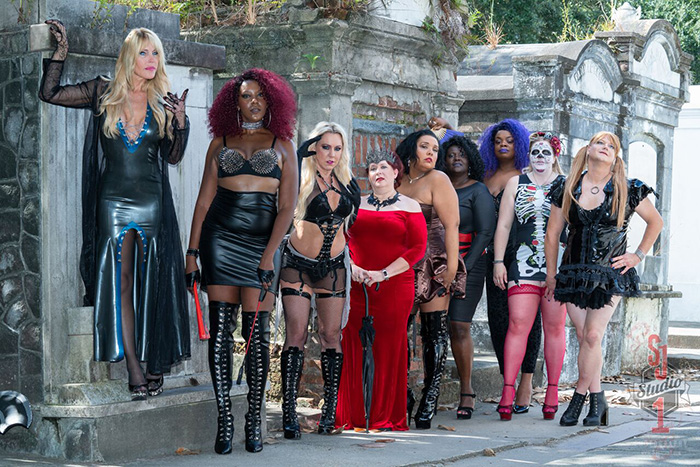 DomCon gathers BDSM professionals and those in the kinky lifestyle from new to experienced. The convention begins with business to business seminars. Over the weekend, the show opens to adventurous and curious adults. To bring together these fetish enthusiasts, DomCon uses classes, workshops, demonstrations, socials and parties, along with vendors showing the latest in bondage gear and pleasure products.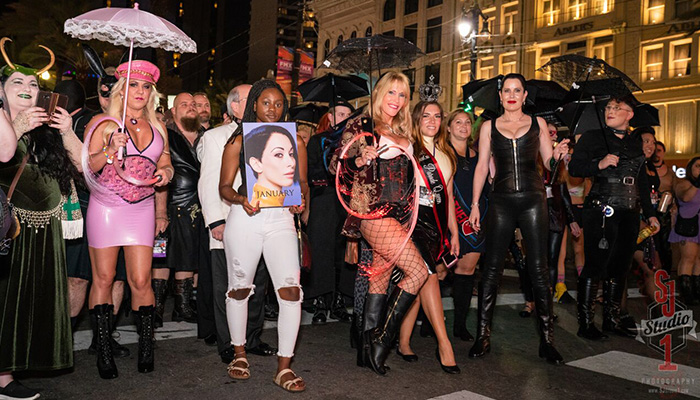 The second line parade marches on Friday, October 28, and has been an ongoing DomCon tradition honoring departed peers the BDSM community has lost. While a celebration of the scene, the parade also raises awareness regarding professional Dominants and sex workers. Participants meet in front of the hotel entrance at 7:15 PM before the parade begins.
"Dear BDSM Community," tweeted parade sponsor, Simone Justice. "Honor those of us who've passed this year. Send me their name and photo for a memorial poster to be carried through the New Orleans French Quarter… Honor those we've lost, while living life to the fullest… in high style!"
This year's parade will be led by the parade queen, who is announced and crowned during DomCon NOLA opening ceremonies, as a recognition of their contributions to the leather community each year.
"Like New Orleans, the BDSM community is rich with tradition," stated DomCon Founder, Mistress Cyan. "Our parade mourns the loss of BDSM community members, by proudly marching together with those who are still with us."
Guests of honor for DomCon NOLA 2022 are Empress Jazmin Wu of Florida, Lady Vi from Arizona, Mistress Jade Thunderstorm of New Orleans, along with Mz Emily and Mistress Jackie of Illinois.
"I am so excited!" Tweeted Mistress Jade Thunderstorm. "I can not wait to exchange ideas, learn and party with everyone who is headed this way!"
Sponsors include Hustler Hollywood, Bad Dragon, JustFor.Fans, Torture Garden, Goddess Phoenix, and LaurenPhillips.com. Go to https://www.domcon.com/events/43234/orders/new for sponsorship availability and information.
Volunteer spots for DomCon NOLA are still open, visit https://www.eventbrite.com/e/domcon-nola-2022-tickets-352417589497?aff=DomConSite for details and available times, or contact [email protected] for additional volunteer info.
Online registration for DomCon New Orleans closes on October 25th. Tickets will be available at the registration desk. For more information on the second line parade, Covid protocols, booth space, VIP packages, schedules and event updates, go to http://www.Domcon.com.