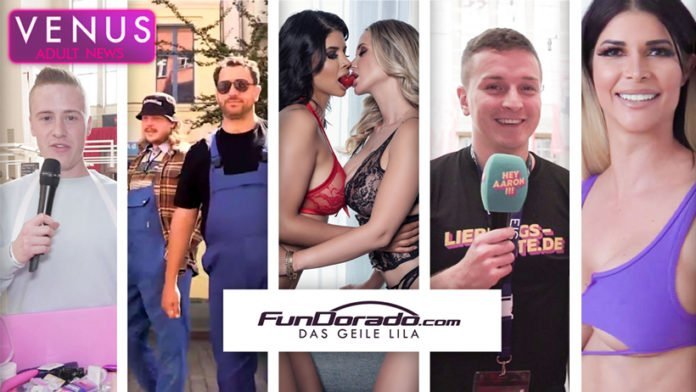 The lips of Cathy Lugner and Micaela Schäfer lustfully come closer while the photographer captures this moment for Playboy. The elegant ambience of the hotel room provides a fitting setting for the sexy photo shoot. FunDorado.com was there live when the two beauties stood in front of the camera.
This is only one of many campaigns with partners from the music industry, Youtube scene and adult entertainment, which can be seen on the adult platform FunDorado.com.
The year began with entering the music scene. Since February all movies of the German rapper King Orgasmus One can be seen on FunDorado. Among them his »Orgi Pörnchen« and the well-known series »Orgi on Tour«. A little later the erotic platform shot a hardcore music video for the single "Hahn im Korb" with his rap colleague Bass Sultan Hengzt. The youtuber Ron Bielecki then radiates youthful freshness with his party hit »Big Mac«. The uncensored video is available exclusively only on FunDorado.com.
Of course women remain at the heart of the site. So FunDorado works together again and again with erotic star Micaela Schäfer. At the annual Mica calendar shooting, this time on the theme of »Horror Classics« with Samy Fox, Anike Ekina, Aby Action and Mia Blow, Mica and her girls demonstrate how scarily beautiful horror movies can be. Most recently FunDorado.com produced the film »Orgi Pörnchen 8 – Die Handwerker feat. Finch Asozial« in September. Both German rappers feature prominently in the film, with the beautiful Jolee Love and Bodo Banger taking center stage.
But there is even more to come, because a cooperation with an internationally known band has been announced. The name of the band is still a secret. But the band will definitely already have given you a catchy tune. Aside from the users and visitors of the site, affiliates in particular are also happy about the campaigns as they have a lot to report about the portal.