The Adult Community and Tubsite xHamster has published a report about a survey on the connection between religion and porn consumption. The results were interesting.
The fact that the large tube sides and Communities possess a substantial treasure of data should be clear to everyone. For years PornHub, YouPorn, and xHamster have been trying to make some of this knowledge about human sexuality available to the public.
xHamster had interviewed 11,000 visitors to the platform on specific topics for a study on the use of porn offers by persons with a religious background. These included questions about personal preferences, origin, religion and how users feel about their porn consumption.
One of the most interesting results was that users with a religious background turned out to be among the most generous audiences in the porn business. A large part of the expenditure goes to cam and VR offers. In the survey, almost 10% of the participants classified themselves as »very religious«, and more than a third classified themselves as »somewhat religious«. At least almost 30% said of themselves that they were »Spiritual but non-denominational«.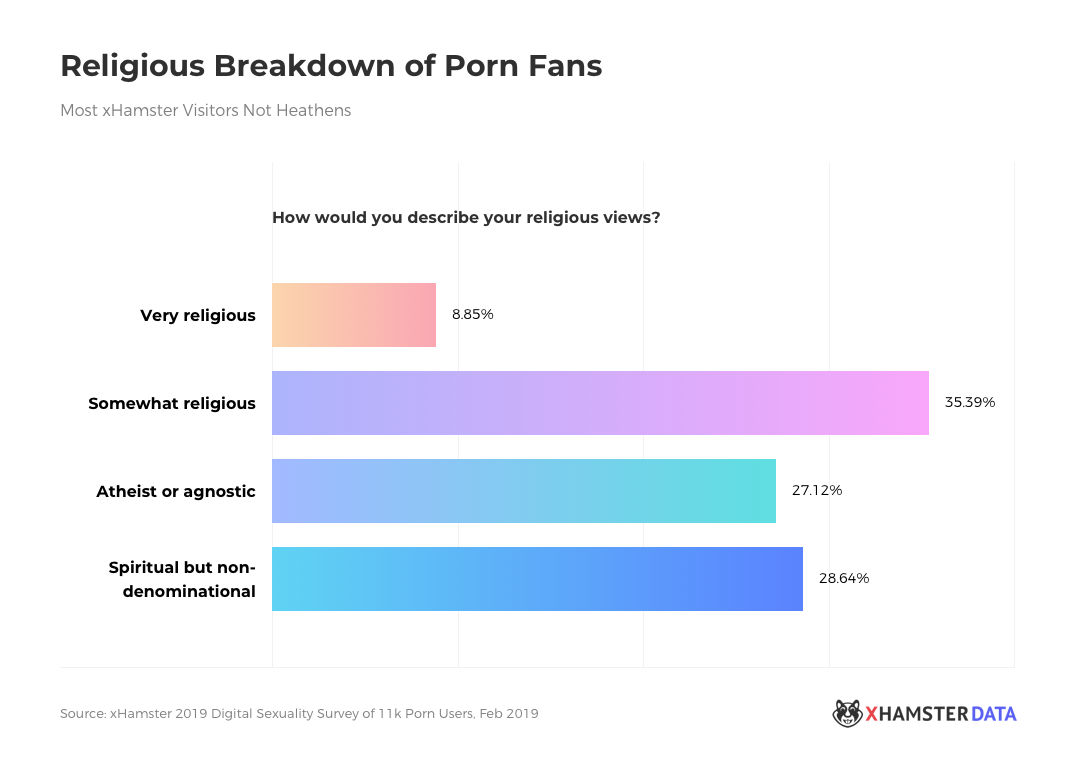 Only 27.12% of respondents identified themselves as atheistic or agnostic.
Among the very religious users, the probability of being married, politically right-wing or conservative and living in the south of the USA increased considerably. Overall, they had less sex than other groups of users.
A good 35% of very religious users stated that they rarely or never had sex, just under 15% said they have sex a few times a year. Contrary to what one would expect, very religious users are rarely interested in homosexual content. (This could be a point where respondents might be tempted to cheat.)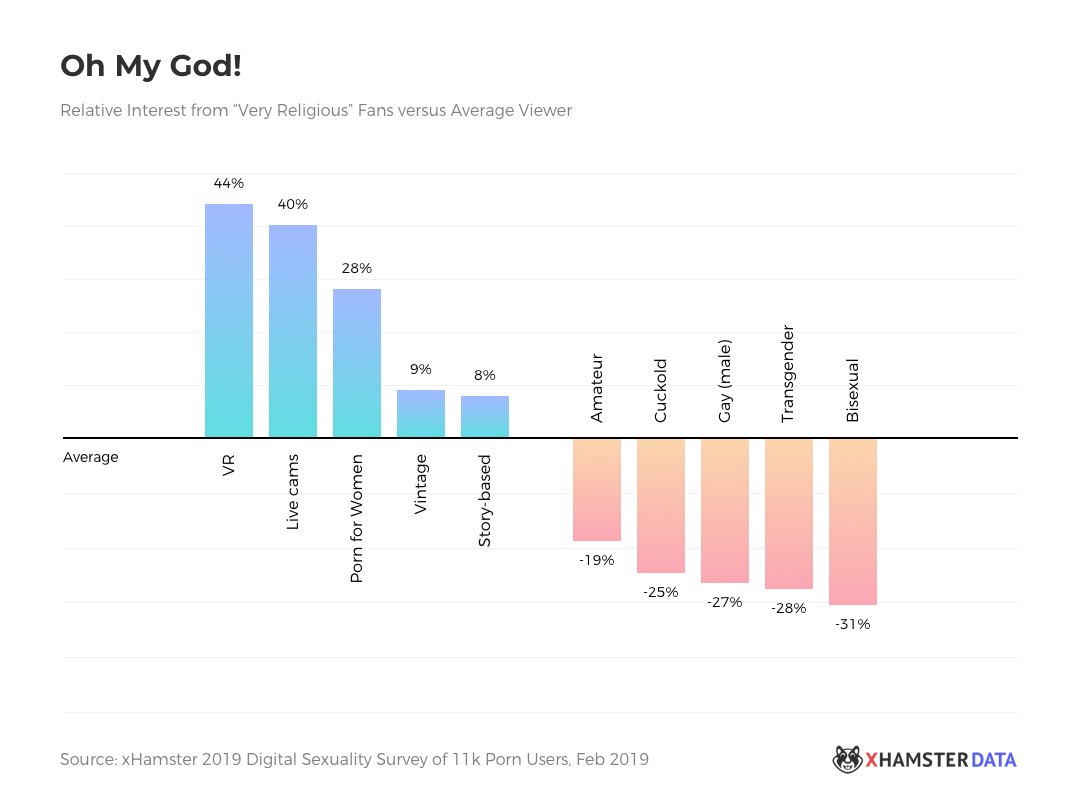 Interestingly, those users who consider themselves very religious tend to consider pornographic depictions to be accurate representations of sexuality in real life. More than 40% of very religious users said they believed that. For average religious people, this percentage is only about half as high.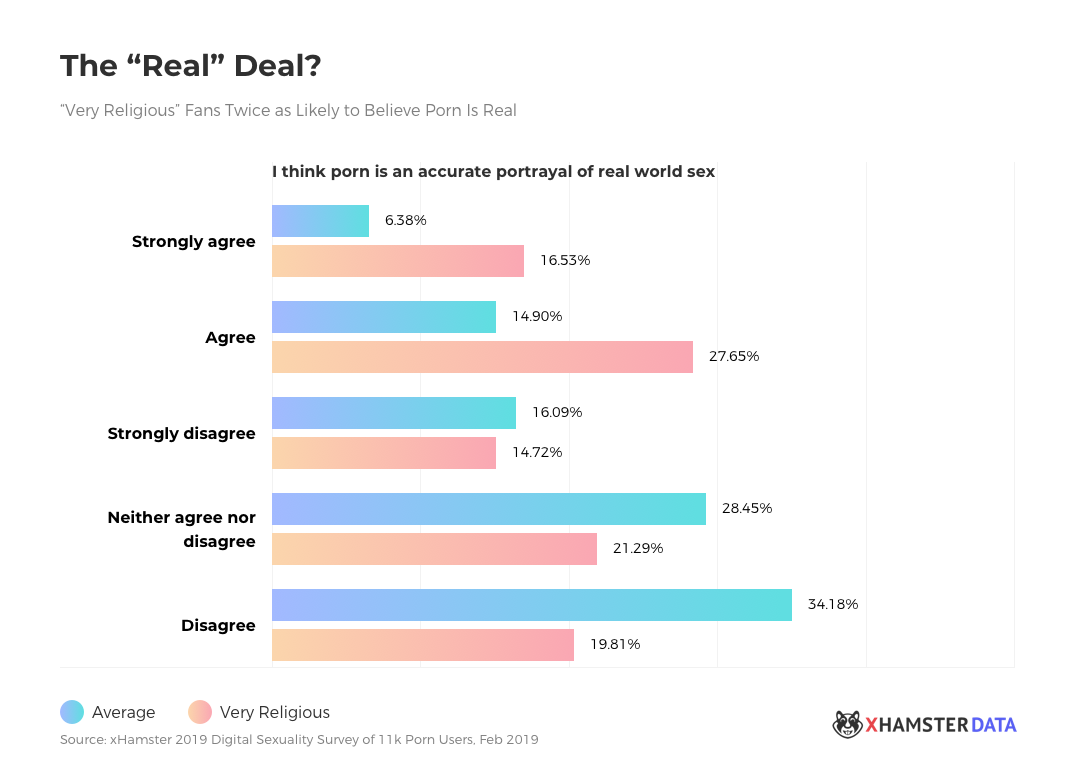 xHamster believes that the lack of sex education among very religious users has consequences for the inner attitude towards porn consumption. Very religious users feel far more ashamed when consuming pornographic content.
About 45% stated that they were not at ease with their porn habits, a percentage that increases when users are particularly interested in homosexual or BDSM pornography. Only 21% of average religious people say they feel guilty about porn consumption. More than 52% of this group say they have no remorse at all. Only about 30% of the very religious participants in the survey do not feel any conflict about their porn consumption.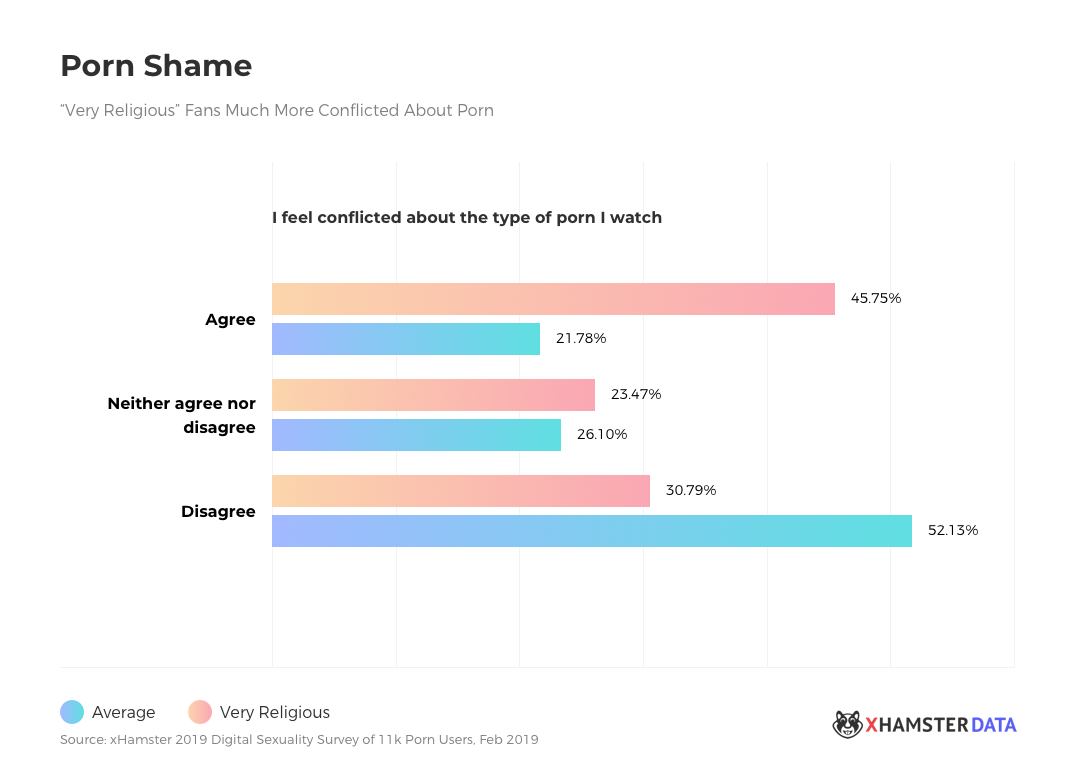 But now it will be interesting for all porn producers and distributors. A lot of money can be earned with very religious people. Although 67% of the very religious people surveyed state that they did not spend any money on pornography last year (average religious people only claim this to be about 63%), among the users who spend 1000 dollars or more, the very religious people are clearly ahead.
6.77% said they spend as much per year on pornographic content. Only less than half (3.04%) of the average religious people reported a similar spending behavior. However, in the price range of 25-100 dollars per year, the average religious users lead. 8.15% of the respondents in this group reported such spending behavior for the past year. Among the very religious users, this is only 5.52%.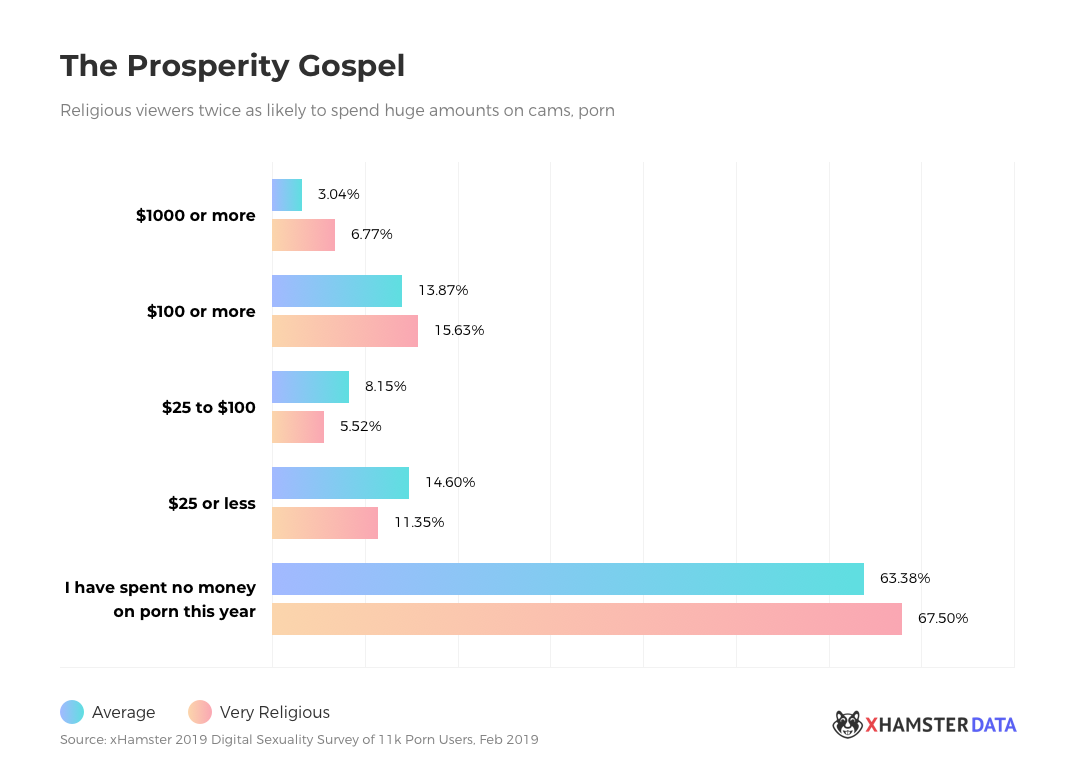 If you want to see more information and more graphics, go to the website of the xHamster blog.