The year is drawing to a close and xHamster is exploring its immense data treasure for trends, conspicuous features and curious habits of its worldwide users. The enjoyable analysis of the data reveals more about us than we think.
Our surfing and search behavior on porn sites reveals a lot about the state of mind and the hidden desires of mankind. The more frequently the site is visited and the more different the wishes and the more diverse the countries of origin of the users, the more meaningful the evaluation of this data becomes.
The porn community xHamster has now compiled and published its own data treasure. And we don't want to withhold these interesting findings from VAN readers.
Besides the increasing differentiation of genres and fetishes, macro trends include the still-growing market segment of faux incest. There was also an increase among female porn consumers. Women now account for a good 29% of xHamster users. The segment »porn for women«, which is not easy to define, increased by 30% at xHamster.
According to xHamster, Germans are the second largest user group of the popular porn portal. More people only visit the site from the USA. This is followed by Great Britain and our European neighbors France and Italy. Also in Brazil and Japan, the site enjoys immense popularity. Russia and the countries India and China, which are often affected by porn restrictions, do not appear in the ranking, but it is almost certain that xHamster gets also accessed from these countries via a VPN.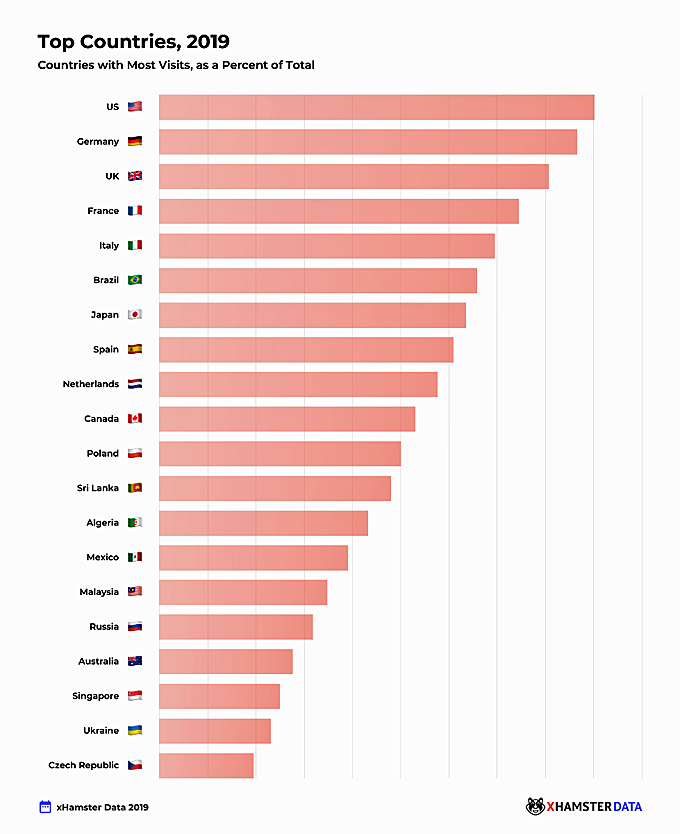 The most popular search terms always indicate global trends and provide insights into people's desires, fetishes, and fantasies. By far the most frequently searched word should prove Freud right for all time: worldwide people search most often for »Mom«. (Whatever that may mean, dear fathers.) The search query for the term did even increase by a whopping 15% in 2019.
This was followed by the terms »Japanese« and »Japanese mom«, which declined by 22%. And as if all this were not enough incest, the search combination »stepmom son« has moved to 4th place with an increase of 108%.
The search terms »Teen« and »Milf« on the other hand barely reached the top 10.
Alex Hawkins is VP at xHamster. He says: »We thank our 'moms,' 'stepmoms,' GILFs, MILFs and 'Daddies' for another great year in search. Of course, as we close the decade, what's most exciting is how much porn consumption has shifted to more realistic, more independently produced content.«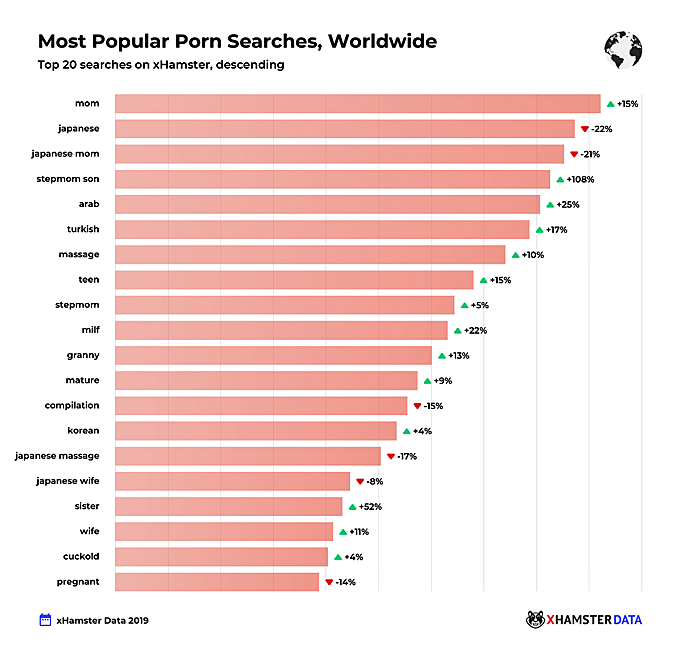 According to xHamster users, Alexandra Daddario and Scarlett Johansson are the most popular actresses among porn lovers. Angelina Jolie and Harry Potter star Emma Watson are also high on the list. Emilia Clarke from Game of Thrones, on the other hand, can only just prevail over Anne Hathaway, who is often hated for unknown reasons. Even Jennifer Aniston, now over 50 years old, is still the dream of many porn consumers and occupies 10th place.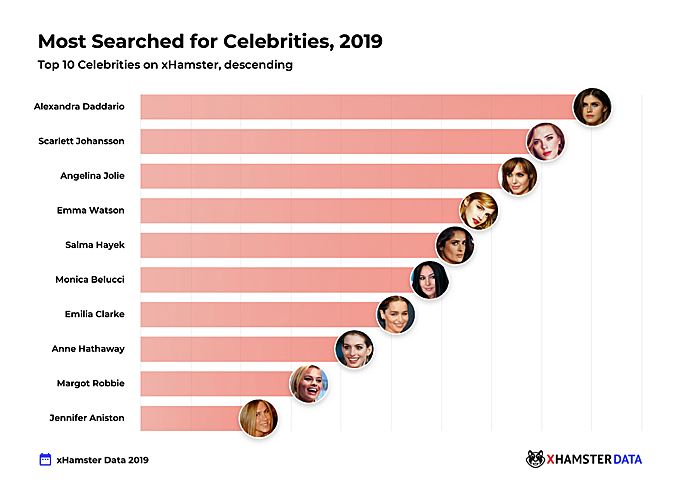 One of the more curious rankings is the time spent on the website. German users spent a total of 5496 years together on xHamster in 2019. This sounds a bit disturbing and of course, pretty much mirrors the ranking of countries with the most visitors for xHamster.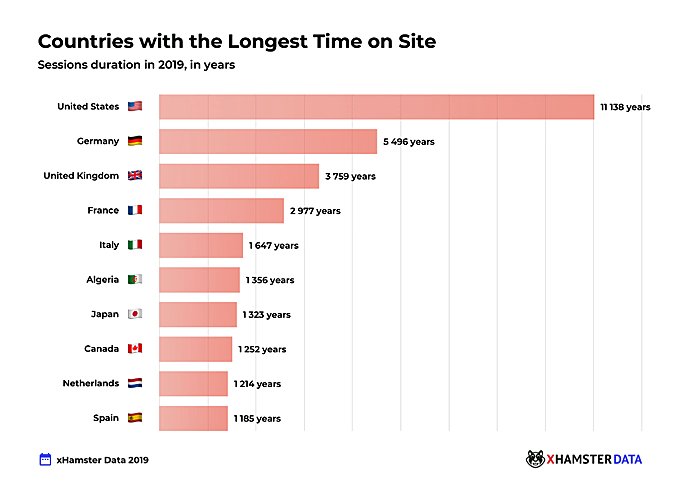 Overall, Hawkins believes that users long for more authenticity. »Ten years ago, global porn looked relatively monolithic, but as tens of thousands of performers and independent producers have come online, they've built up an ever-more-diverse user base.«
He adds: »While we know porn data may seem funny and outrageous, it's one of the few ways we can understand our society's collective id. At a time when there's so much silence about sex and sexuality, we want to encourage honest, fact-based conversations.«
The full report compiled by xHamster can be found here.