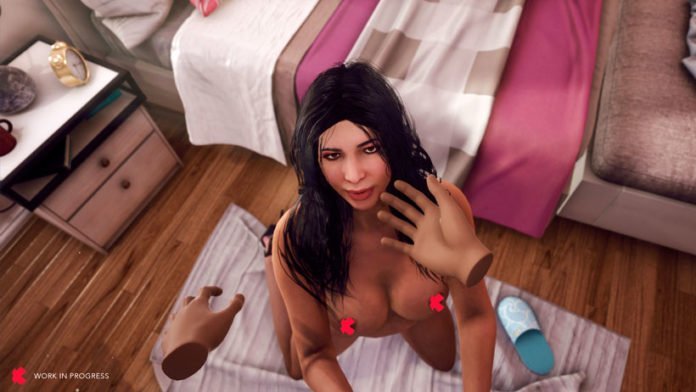 Nearly ten years ago, the movie hit Avatar sparked a real 3D boom in the movie industry, but sometime before that, it had already been used in the gaming scene. However, fully animated characters with lifelike character traits are still fascinating today. So-called avatars are not only computer-animated characters, but also tell different stories with unique facial expressions and individual movements. They also create emotional bonds. The adult entertainment industry has also adopted this technology and is creating a completely new experience with realistic images of real actors – vrXcity is developing an interactive sex playground for adults in Virtual Reality. But how are animated characters such as Micaela Schäfer created? »With the help of our specially developed technology, we create a very special experience,« explains Tobias Platte, Managing Director of me.mento 3D interactive GmbH in Berlin.
Scanned from head to toe
Micaela Schäfer, Germany's most famous erotic model, also likes the idea of a lifelike avatar of herself. That's why she was scanned in the vrXcity development studio like 900 international erotic stars before her. Using a full-body 3D scanner, she is scanned from all angles with a total of 170 cameras within two hours. The VR experts produce 50 shots of her face alone in order to make the facial expressions as realistic as possible. »All body parts are captured in detail,« explains Tobias Platte. The international team then uses photogrammetry to assemble all of Micaela's photographs into a virtual 3D character.
Smooth action
In the next step, the figure gets its skeleton to make all necessary animations possible. »For these digital motion sequences, we use so-called motion capture technology. A professional actress gets captured in advance performing various movements. We then import the data and transfer it to all other avatars in vrXcity, including Micaela,« explains the expert.
Life-like avatars
For the perfect experience, actors and actresses lend their voices to the avatars. In order to cater to international users, they speak in English. These recordings can then be used several times and applied to different situations or application areas within vrXcity. After implementation, the avatar is ready for the fans. Micaela gets nude in different rooms and creative environments. »Through the detailed presentation, users experience special moments and connect with their favorite characters just like in Avatar. But not only men get their money's worth,« Tobias Platte says and emphasizes: »There are of course also male adult stars such as Steve Holmes and Danny Mountain available for private moments.«
If you want to know more go to www.vrxcity.com