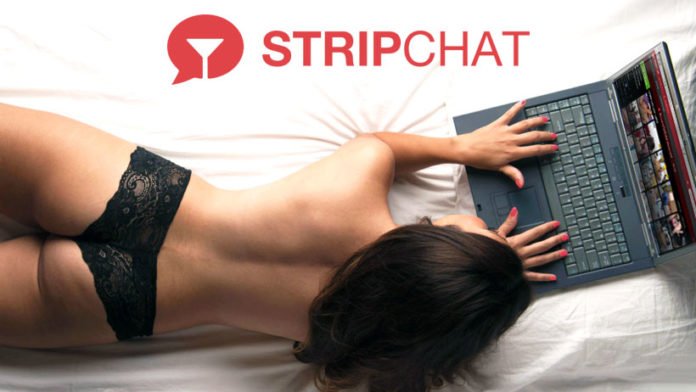 In the fall of 2019, Stripchat conducted a groundbreaking study of the German adult entertainment market and interviewed nearly a thousand Germans about their relationship to adult entertainment, including traditional pornography and live entertainment cam sites. The data was then compared locally and globally with existing data.
GENERATION CAM
German users are younger, more diverse and spend more than previous generations.
Almost half of the live cam audience in Germany is younger than 24 and almost 70% are younger than 34. The 18-24 year olds make up 44.3% of the cam audience, while the under 34 year olds make up 69.3% of the total audience. Those over 65 only account for 1.6%.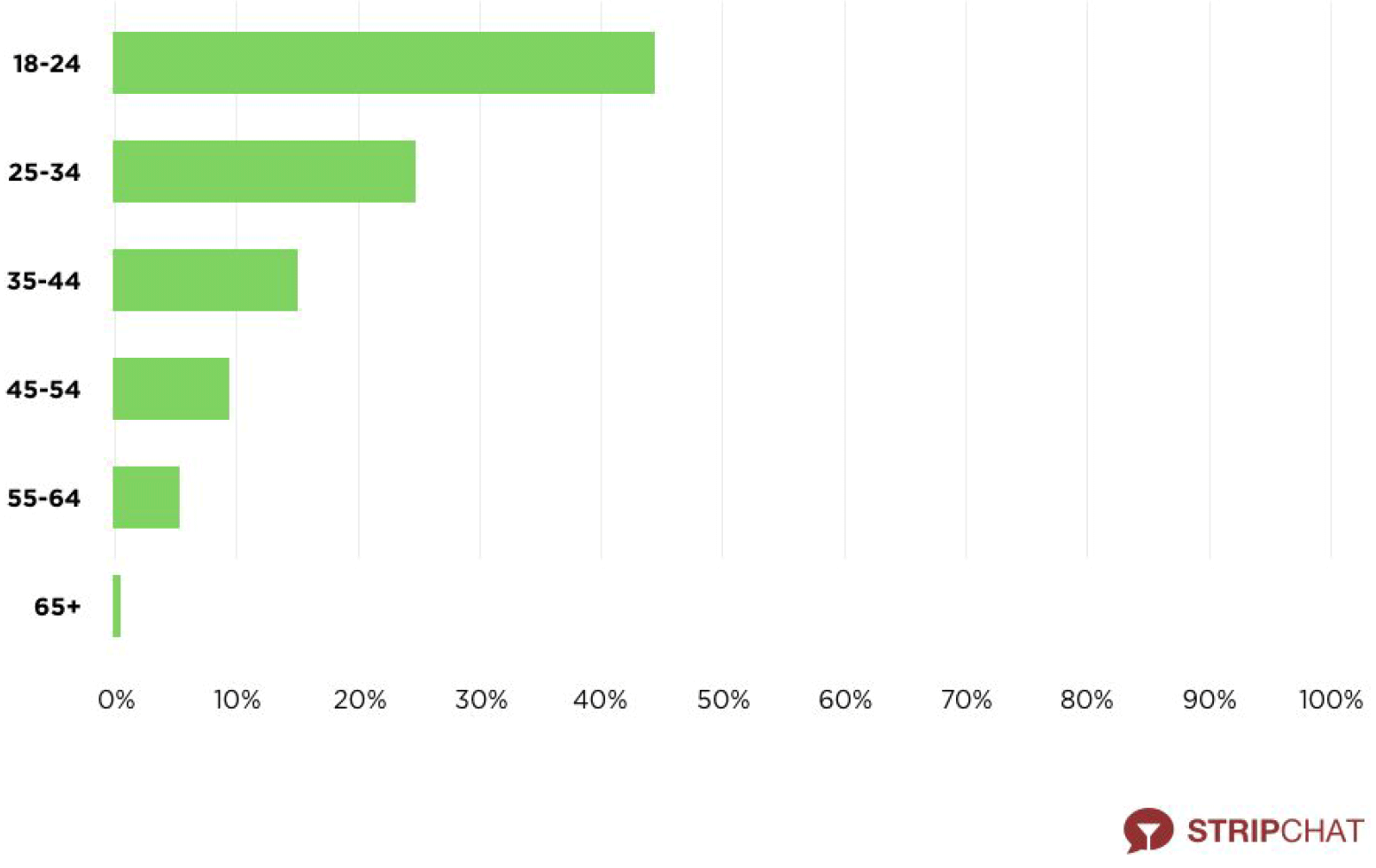 Compared with a recent study of German consumers conducted by the tube site xHamster, the difference is enormous. Only 18.6% of tube site visitors are under 24 and 45% under 34.
In contrast to conventional porn sites, cam sites increasingly appeal to younger Germans. A social media landscape with many live streaming services such as Skype, Apple FaceTime and Twitch has changed the expectations of younger consumers of adult websites.
A survey among German users confirms this worldwide trend. Those who like live streaming cam sites are significantly younger than those who use tube- or subscription-based sites. As the younger generation gets older, it will require more interactive experiences than passive viewing. This will not only change the German market, but the global market as well.
Increased willingness to spend
The conventional wisdom that young Germans do not pay for pornography is reversed. A new generation of adult entertainment consumers is increasingly willing to spend money on live cams.
Of those who watch live cams, 53% of those under 24 say they spend money on cams, compared to 41% who say they spend money on traditional pornography. An astonishing 7.9% of people under 24 spend more than €1000 a month.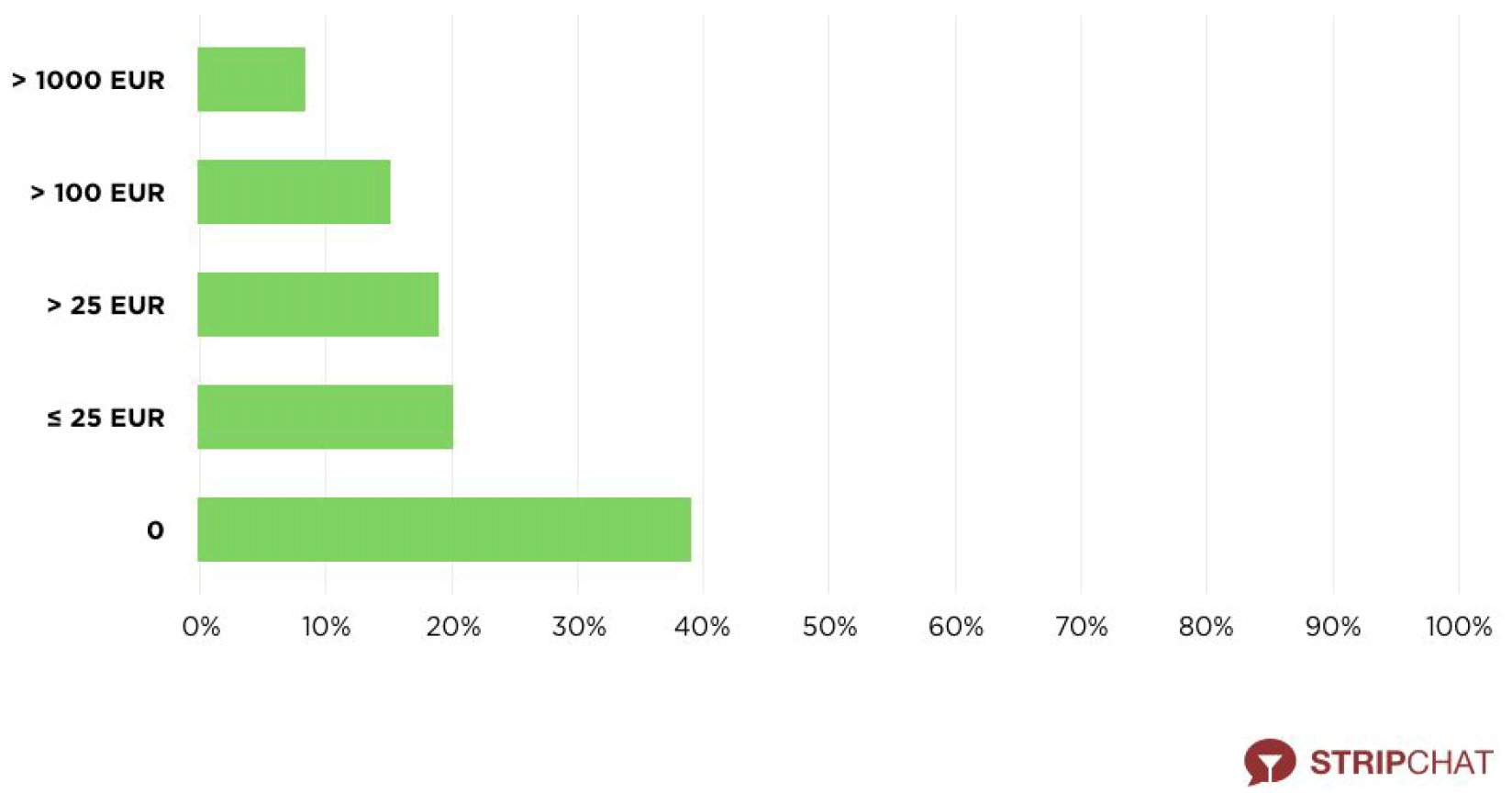 GERMAN WOMEN AND CAMS
A similar trend shows that German women are 58% more likely to enjoy live cams than traditional pornography. 9.7% of respondents to the live sex study said they were women, compared to only 6.1% of respondents to the xHamster tube site.
(The actual percentage of German women visiting these sites is much higher – the number of live cam users is over 20%. At present, however, women do not access the website as frequently as men and have therefore participated less in the study).
As with young German men, German women spend much more money on high-quality live cams. Over 46.5% of women spend more than 100 euros per month on live cams, compared to 19.7% of men. A staggering 31.4% of German women spend more than 1000 Euros, compared to only 4.12% of men.
Although they currently form a smaller market segment, we see that this is changing. The future will be female!
WHAT ARE GERMANS WATCHING?
Germans watch almost the same content as the rest of the world, but if they have the choice, they chose German content.
MILF and teenagers continue to be given priority among German consumers and are in the top group, which is rated as the favourite by over 53.3% of Germans watching adult content.
When asked about the 5 most popular categories, Germans prefer:
Live Cams (48.4%)
Lesbian (41.5%)
Amateur (40%)
Public sex / Sex in public (27.5%)
Incest (16.3%)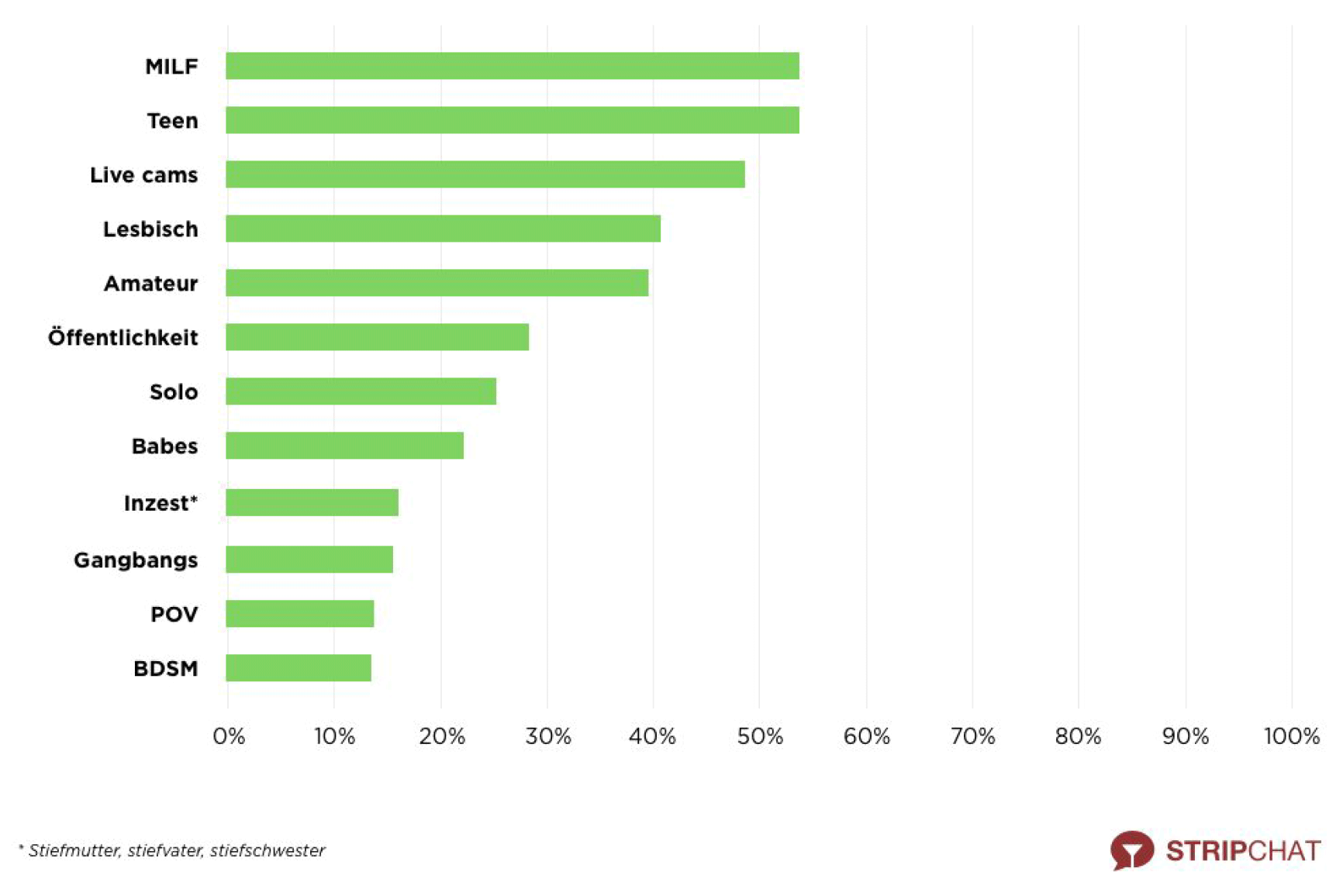 However, some categories are more popular in certain regions than others.
[table id=1 /]
Stripchat also asked users if they would prefer German-produced pornography to pornography from other countries. 55% of respondents said they didn't care about the country of origin of the pornography or the actor, while 30% said they preferred content produced in Germany.


In some regions, however, German content tends to be favored.
Brandenberg (44.4%)
Lower Saxony (42.5%)
Mecklenburg-Western Pomerania (42.1%)
Saxony-Anhalt (34.6%)
North Rhine-Westphalia (33.5%)
Other regions, on the other hand, tend to reject pornography from Germany. These are federal states that prefer porn from other countries:
Bremen (29.4%)
Hamburg (26.7%)
Berlin (20.3%)
Saarland (20.0%)
Baden-Württemberg (18.3%)
GERMANS WORRY ABOUT SEX
The Germans show more concern about their habits with regard to adult content, which can lead to an increased desire to have material censored by government.
While the country is sexually progressive, many Germans expressed concern or shame about the kind of adult content they saw. About 47% of German cam viewers said they were at least occasionally ashamed of the type of content they watch.
Berlin and Hamburg residents were most embarrassed about the type of content they viewed, while Saxons and people from Brandenburg were least concerned.
In addition, 16.7% of Germans stated that watching cam shows caused problems in their relationship.


People from the Saarland, Bremen, Hamburg and Berlin have stated most frequently that they have problems in their relationship due to their viewing habits.
CENSORSHIP
A shocking 17% of German cam users believe that the government should restrict access to adult content. The desire to use government censors to narrow access to adult content was most evident in German regions where the type of content people viewed was perceived as the most embarrassing. 36.76% of Berliners and 36.67% of Hamburgers support more state restrictions.

TECHNOLOGY
Although it is no surprise that adult entertainment has shifted to smartphones, the pace at which this has happened is startling. Only a third of German consumers use a desktop to watch live cam shows. More than half of German cam users (54.7%) use a smartphone to watch cam shows, another 10.9% use a tablet.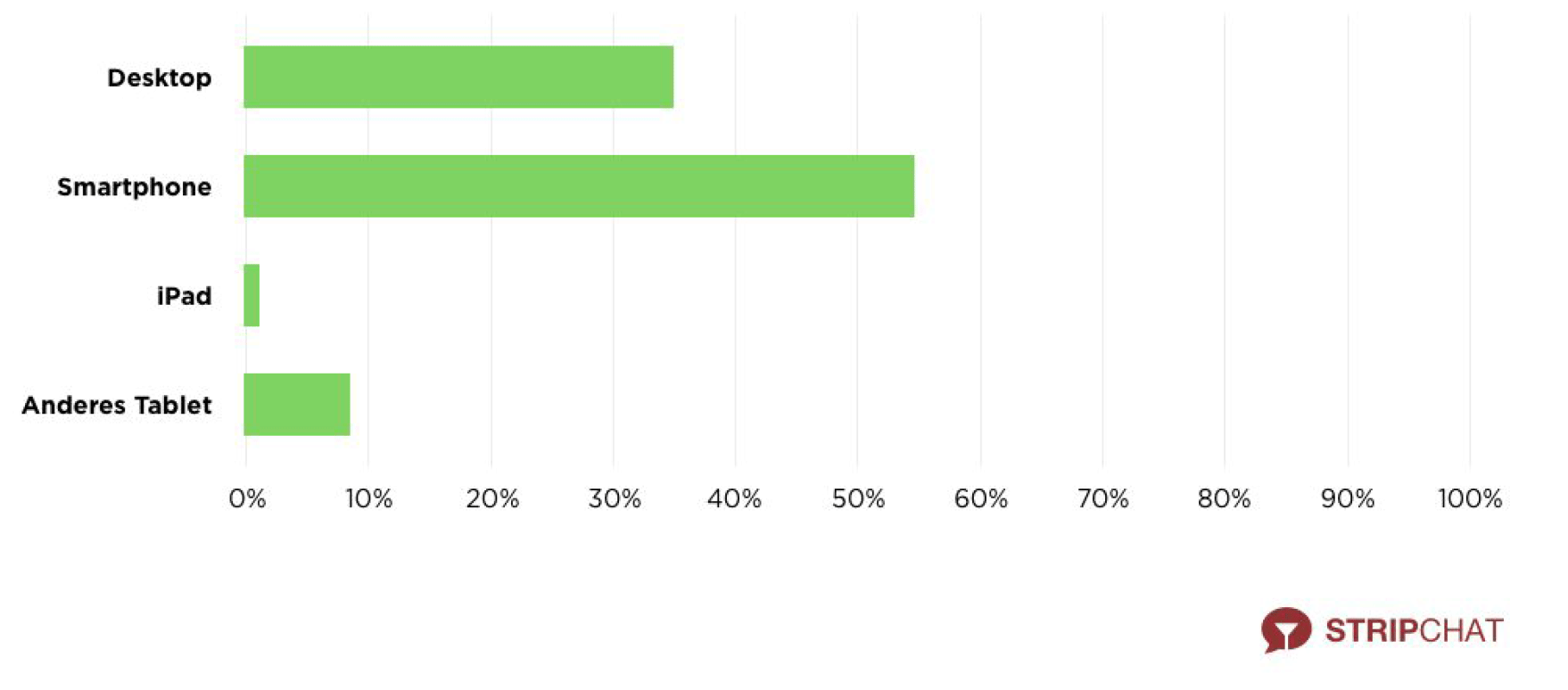 The gap is even wider among younger generations. Only 18.7% of Germans under 24 use a desktop to watch cameras and 71.7% use a smartphone. As this population ages, desktops – once the predominant form of porn consumption – are likely to become less important.
When usage migrates to the smartphone, so does production. Mobile phone formats, targeting and messaging are increasingly becoming the standard mode of the market.
RECOMMENDATIONS
For a thriving and flourishing adult community, adult producers should be focused towards the future.
The German erotic market should concentrate more on interactive live shows than on traditional pornography. After a decade of decline, the new, younger generation of viewers has shown a willingness to spend a lot of money when offered a unique experience.
The German market should take women seriously as consumers. They are more likely to demand high quality content and are much more willing to spend money on it. A recent survey conducted by xHamster showed that women will account for over 30% of the total adult market by the end of 2019. However, only a few companies are targeting them.
Local content is sold both in Germany and in other countries. Since professional production is not always possible in every country, we need to strengthen and encourage local performers and amateur producers if our markets are to thrive. Those who concentrate only on the USA or the global markets leave potential revenues on the table.
Mobile technology is the future. Adult businesses have to make mobile services work. They need to understand that mobile devices are the standard, both for consumption and for production.
A significant percentage of users experience inner conflicts related to sex and sexuality. * The adult industry has the responsibility and incentive to help these people understand their feelings and solve problems such as religious shame. Those who are most likely to feel conflicted are most likely to block or censor adult material.
For more information, detailed data or custom graphics or graphs, please contact Max Bennet – VP of New Media – [email protected] (Only in English please)
*Stripchat has recently launched innovative therapist sessions for cam viewers in the US to combine them with scientific, non-judgmental information about sex and sexuality. The response has been remarkable, and based on the results of this study, an extension of the program to Germany is justified.