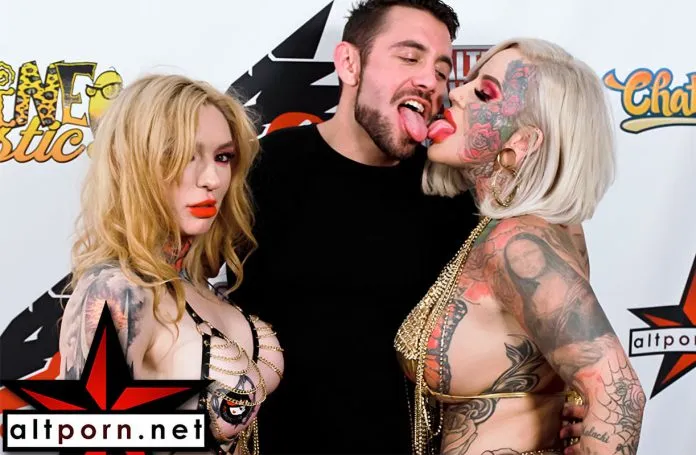 The highly anticipated AltStar Awards 2023, also known as the AltPorn Awards, are just around the corner and industry excitement is building. This prestigious event, hosted by Bad Dragon, shines the spotlight on some of the best alternative adult content on the internet.
Nominations have been announced and now it's time for fans and industry professionals alike to get involved. Winners will be determined through a combination of online voting and a panel of judges made up of the AltPorn editorial team. This is to ensure a fair and inclusive selection process.
On 18 June, the winners will be announced in person at a grand awards ceremony in Las Vegas.
The AltStar Awards and the associated AltStar Magazine aim to showcase the unique world of alternative pornography and celebrate the various subcultures such as punk, goth, emo, inked and other more niche or edgy genres.
Fans from all over the world can join in by going to the award's website.
Here is the list of nominees for this year's AltPorn Awards:
Best Inked Clip Artist

anuskatzz
Addox Grey
Austin Spears
Cattie Candescent
Dallas Maxwell
Dani Dezzi
Flame Jade
Frankie Vanian
Katharine Cane
Kleeer
Leda
Little Spittle
Loveless
Lyrik Allure
Misha Montana
Miss Whitney Morgan
Persephone pink
Santana Red
Sassy Tail
SyrenCove
Vex Voltage
Best Cosplay Clip Artist
AliceBong
Atzula Storm
Cruel Alice
Ellie Idol
Helly Rite
Kit Kendal
Leya Falcon
Ludella Hahn
Luna Queen
Marina Valmont
MollyRedWolf
Octokuro
Purple_Bitch
sia siberia
SonyaVibe
Virtual Lady
Best Toys Clip Artist
AJSaetra
Argendana Extreme
Deerbxby
Delphoxi
Estella
KatrinaSage
Lilith the Tentacle Slut
Lilvampydoll Luca
Little Pixie Kitten
Marie Kaleida
MissLoLo
Mylene
pupsiclestick
ropebaby
Sage The Size Queen Avery
Slam Thot
Stacy Bloom
Starryfawnn
Tabasco
TentacleBimbo
Best Cam Duo
Anna Cherry & Richard Rall
Brittany & ninja
Delilah Cass & James Cass
Freak77show
JaylaXavier (ThatCoupleJX)
Kasarawood & ItsKylie
LikeMyAshe & HeartMyArc
MyPerfectHarem (Chrissy LeBlanc, Sir, and girlfriends)
Natalia_Rae_ & AshleyyLovee
NelParker & TinaHale
Nina Rivera & Don Whoe
Ourdirtylilsecret
Sarina Havok & Robin Coffins
Sexy Sandra & Sir Christopher
Best Cosplay Cam
AnimeAnnie
Arikajoy
Brooklyn Springvalley
Chrissy LeBlanc
Deviantxdarling
EmillyRogers
Finley Fae
Ghoulian Gore
IAmAprilStar
Kiley Corrupt
Komorebi
LikeMyAshe
Lilith Rae Fox
Lovexxxpink
Luci Morningstar
Poppy__Parker
Runesyy
Sara_Skys
Sinomin
Best 420 Cam
BraisleeAdams
Britanybomber
ChalkMoon
DrewBerries
ItsKylie
LanaTy
LexaLuv
Lily Kush
LucidLucy
LucyLovesick
Mari_Jae
MermaidMiley
SpaceSyren
Syndica
TheSharkQueen
Tricky_Nymph
Best Nerd Cam
Aphia DeMieux
Bedside Willow
Corrina Karma
Crystal Rivers
Ivy Wilde
Lanie Luxx
LexaLuv
MollyMayhem
NelParker
Nerdgibbler
NovaSquid
Your_Desirre
Best Punk Cam
BabeAriel
BadlandBandit
CherriLove23
Lucy Love / Sugarrrbabyydoll
Marilyn Jane
Miss_Vaga
NecroNicki
Nikki Norwalk
o0pepper0o
Phoebe Phelpz
Zaturn
Best Inked Cam Model
awlivv
BabeAriel
Belen_o
BonnieWest
Brenna McKenna
Charlie Cake
Darcy Diamond
Felicia Rose
Kaiia Eve
KasaraWood
Lana Del Bae
Lilith Jane
Lilithrosexxx
Lorettarose
Mackenzie Wolfe
Nikki zee
Penny Poison
SassySuz_
Veronika Rose
Best Rave Cam
Darla DeVour
Lunasparkles
MermaidMiley
Miss Mao
Molly Simons
Norah Nova
SugaryBunny
Tricky Nymph
Wholesome Filth
Best Gothic Cam
Aurora Skye / spxrklybrat
Angel Summer
Baby Succubus
Elunaxc
Eris_exe
Eydis Elliott
Fatal Goth
GhostieGhoo
Goddess Lilith
Ivy Minxxx
Lilithinlatex
Ryuga Hideki
Luna Luxxx
Mistrx Sin
MoonConjured
Raven Alternative
Robin Coffins
Best Cam Creativity
Bunni Button
Cruel Alice
Cubbi Thompson
Cynpai
daphnemadison47
Emily Bloom
Kristie Bish
Natalia_Rae
PersonalTOTEM
RocknRose
Sinomin
Tigger Rosey
Best Tech Toy
Doxy Die Cast 3R Rose (Doxy)
Chainsaw 7 (ACMEJoy)
Feel My Power x Kelly Malka (Le Wand )
Gravity (Lovense)
GravityRocket (OurEroticJourney)
Liquid Silicone Pixies Exciter (CalExotics)
Namii (Biird)
Princess Euphoria (Nasstoys)
Rainbow Ombre Petite Massager (Le Wand )
Starburst (OurEroticJourney)
Stella Liquid Silicone Dual Teaser (CalExotics)
Sugarotic (RockCandyToys)
Tech Ring (FirmTech)
Ukelele (Hismith)
Unihorn – Mount'n Peak (The Pointy Tongued One)
Universal Thruster Mini (Velvet)
Womanizer OG (Womanizer)
Best Sex Toy Stroker or Grinder
Barrel Stroker (Gorilla Machine)
Bobble Series (Tenga)
FTM Penis FlyTrap Transgender Stroker (ChillowFantasy)
Fuxi's Paw (NaughtyFox)
It Sure Ain't Donut Grinder (TheSexShed)
Maera (DarquePath)
Medusa Grindable Cock Ring (DarquePath)
Meos Breath (Nothosaur)
Monet (Bad Dragon)
Raido (Twilight Meadow Creations)
Sahleen (Bad Dragon)
Scylla Platinum Silicone Tentacle Grinder (Sinnovator)
The Gym Sock (Velvet Alley)
The Shredder (Velvet Alley)
The Witches Cauldron Grinder (Odyssey Toys)
Best Sex Toy Sculpt
Banana for scale (Dilgo)
Bastet Maw (Darque Path)
Cuttlefish of Chthulu (Bad Dragon & GWAR)
Drone (C.L.Lovecrafts)
FairyTree (OrganoToy)
Handyman (Hankeys Toys)
Haiku (Bad Dragon)
Keepers Hoof (Twilight Meadow Creations)
Lilac V plug (Faux Phallus)
Razzle Dazzle (Elemental Toys)
Ritual (Hodge Podge)
The Distinguished Doctor Edgar (Velvet Alley)
Best Butt Toy
Arcturus (SurveyOfTheCosmos)
Assberge' Egg Plug (Hankey's Toys)
Echo's Horn (Bad Dragon)
Faxi (Nothosaur)
Four Horsemen War (Faux Phallus)
Goose Neck (JohnThomasToys)
Phil – The Hero Trainer (Elemental Toys)
Sveinn (Bad Dragon)
The Knuckle Friendly Toys Co)
The Rainbow (Velvet Alley)
Traffic Cone (Phreak.)
Tuna Can Jerry (AllNightToys)
Warrior (Sinnovator)
Best Sex Toy
Aero the Dragon (NaughtyFox)
BaseMyBall (OrganoToy)
Dildos & Dragons (Hankey's Toys)
Inflatable Bam! Bam! DP (Elemental Toys)
Kane (Xenocat)
Ky'el (Bad Dragon)
Lava Lamp (NawtyToyBox)
Lenea Depth Trainer (Phreak.)
Resurrection (VelvetAlley)
Seraphina (Bad Dragon)
Snark's Maw (Paladin Pleasure Sculptors)
Best Alt Visual Arts Book
Eye Candy Girls from Victor Lightworship
Creepy Fantasy Kawaii Pastel Goth Coloring Book: Cute and Creepy Horror Gothic Coloring Pages for Adults (Leriza May )
Diddier Carré: STAINLESS LADIES (Edition Skylight)
Ink Is My Blood – Volume 6 (Apollonia Saintclair)
Knot Forrest Gander (Copper Canyon)
Newton, Riviera (Prestel)
Queer Tattoo (Verlag Kettler)
Rock Banned (Paul Freeman)
Tattoo Wonderlands (Laurence King)
Vincent Peters Personal (teNeues)
Best Alt Magazine (That isn't AltStar)
ASN Lifestyle Magazine
Atto Magazine
Baddie
BarelyEvil Magazine
Bazowie! Magazine
BCams Magazine
CamgirlVixen
Darkside Magazine
Erotic Sky Magazine
HUZZAH! Art Magazine
Inside ArtZine
Kittens Magazine
Modelz View
Sinical Magazine
TE Twisted Edge Magazine
UV UltraViolet Magazine
Best Alternative Erotica Photographer
Ashley Fontenot
Clix (Messyhot)
Dahlia Von Knight
GlitterFlick
Ivan E. Rection
Jennifer Garcia / Le Mew photography
Lily Lu
Morat
Moss VonFaustenberg
Nicola Grimshaw-Mitchell
PanDeMonium Photo
Best Modern Burlesque
Angel Beau
CervenaFox
Daisy Ducati
Jen Hexx
Jessie Lee
Kleio Valentien
Lady Courtney
Marie Devilreux
Masuimi Max
Onyx Muse
Penny Poison
Saint Anique
Best Clip Artist of the Year
AliciaSilver
anuskatzz
Cam Damage
Delphoxi
Ellie Skyes
Eva Elfie
Jewelz Blu
Little Pixie Kitten
Mylene
RayRay
Sabien Demonia
sia siberia
Sinn Sage
Starryfawnn
Taylor Nicole
Tiny Feet Treat
Best Cam Model of the Year
BabeAriel
Blonde_RiderXXX
Chellie aka Ms Chellie aka ChellieDD
Cubbi Thompson
ElouisePlease
Emily Bloom
Eva Darling
itsKylie
IvyGrace
KasaraWood
Kristie Bish
Lana_del_bae
LaraLoxley
Miss Mao
RocknRose
Best VR AltPorn Video
"A Pirate's Life For Three" (WankzVR)
Starring Violet Starr and April Olsen
"An Innocent Cumdump" (KinkVR)
Starring Haley Reed and Arabelle Raphael
"Game Of Thrones Rhaenyra Targaryen" (VR Conk)
Starring Lilly Bell
"I Want You: featuring Sara Star" (BlushErotica/BEVR)
Starring: Sara Star
"Jacking For You" (BlushErotica/BEVR)
Starring Lyla Everwettt and Princess Dandy
"Karma and Punishment" (VRBangers)
Starring Karma Rx
"Lost in Orgasms" (KinkVR)
Starring Baby Sid
"Magical Sempai XXX VR Cosplay" (OnTheTelly/SexLikeReal)
Starring Chloe Surreal
"Movie Night – Hot Alt-Girl" (VRFanService/SexLikeReal)
Starring Kitty Cam
"One Night Stand with Kira Noir" (VRBangers)
Starring Kira Noir
"Star Wankz A New Poke" (WankzVR)
Starring Avery Black and Charlotte Sartre
"The Garden of Eden" (BadoinkVR)
Starring Eden Ivy
"The Mandalorian Bo Katan a XXX Parody" (VRCosplayX)
Starring Sophia Locke
"The Shop – Pornstar with Pink Hair" (VRFanService/SexLikeReal)
Starring Evie Rees
"Twilight Princess: Midna" (VRCosplayX)
Starring Maya Woulfe
Best Gonzo AltPorn Video
"Asphalt Island" (Kink.com)
Starring Cam Damage, Mike Panic, Daisy Ducati, Ruckus, Natalie Mars, Lance Hart, Ella Nova
Director — Sadie Lola
"Black Out" (AltErotic)
Starring Jax Slayher, Isiah Maxwell, Alex Jones, Nat Turnher, Jon Jon, Eddie Jaye, Don XXX Prince, Misha Montana, Musa Phoenix, Nacho Vegas
Director — Ivan E. Rection
"Cuma Sutra Magick" (Adult Time)
Starring Ariella Ferrera, Serene Siren, September Reign, Kaiia Eve, Jayden Cole, Jenevieve Hexxx, MySweetApple, Paolo, Rex Ryder
Director — Jenevieve Hexxx
"EFW14: Winner Fuck Loser" (Evolved Fights)
Starring Maya Kendrick, Lily Lane, Kaiia Eve, Lydia Black, Jenevieve Hexxx, Juliette March, Sheena Rose, Johnny Starlight
Director — Ariel X
"Glam Gonz 2" (AltErotic)
Starring Emma Hix, Misha Montana, Kennedy Rose, Darcy Diamond
Director — Misha Montana
"Inked Girls Turn Me On" (Wicked Pictures)
Starring Ramon Nomar, Tyler Nixon, Seth Gamble, Monique Alexander, Kleio Valentien, Ryan McLane, Honey Gold, Christy Mack, Lily Lane, Derrick Pierce, Will Powers, Eric John, Richie Calhoun, Lolly Ink, Harlow Harrison, Rocky Emerson, Penny Archer
"Inked Raw 2" (AltErotic)
Starring Sascha Koch , Rocky Emerson, Kitana Montana, Michelle Masque, Marie Bossette
Director — Ivan E. Rection
"Mistress After Hours: Four On One Hardcore Shibari Gangbang" (Kink.com)
Starring Sabien Demonia, Juan Lucho, Aaron Rock, Kevin White, Darrell Deeps
Director — Sabien Demonia
"My Tattoo Girls 4" (AltErotic)
Starring Sascha Koch, Kitana Montana, Heidi Van Horny, Misha Montana, Evilyn Ink, Mara Martinez, Nayomi Sharp
Director — Ivan E. Rection and Sascha Koch
"Natalie Mars Goddess Of Whores" (Evil Angel)
Starring Natalie Mars, Eden Ivy, Bo Sinn, Michael Fly, Ivy Maddox, Mad Bundy, David S
Director — Proxy Paige
"Outside The Cage" (Sinn Sage Studios)
Starring Sinn Sage, Ruby Riots, Drake Man-O-War
Director — Courtney Trouble and Chelsea Poe
"Pastel" (Evil Angel)
Starring Alexis Crystal, Anna De Ville, Eden Ivy, Jennifer Mendez, Sasha Beart, Darrell Deeps, Morea Black, Lady Gang, Tabitha Poison, Dalila Dark
Director — Proxy Paige
"Perversion And Punishment 19" (SevereSexFilms)
Starring Bettie Bondage, Veronica Vixen, Bella Bathory, Maya Sinstress
"Proxys Gape Gang" (Evil Angel)
Starring Brittany Bardot, Eden Ivy, Sasha Beart, Ivy Maddox, Anna de Ville
Director — Proxy Paige
"School of Submission: Brooklyn Gray" (Kink.com)
Starring Brooklyn Gray, The Pope, Derrick Pierce
Director — The Pope
"See Right Through You" (AdultTime)
Starring — Seth Gamble, Jewelz Blu, Connie Perignon
"TeenFidelitys Inked & Insatiable" (PornFidelity)
Starring Eden Ivy, Charlie Dean, Angelo Godshack, Nick Ross, Adelle Sabelle, Kevlyn Santos, Mali Ubon, Felipe Costa
"True Amateurs Vol.14" (True Amateurs)
Starring: Val Steele, Cleo Clementine, Jessica Kyle, Rainbowslut, Teena Booty
Best AltPorn Feature Video
"Fixxxion Season 2" (Fixxxion)
Starring Eveline Dellai, Charlie Red, Alyssia Kent, Lady Dee, Luna Corazon, Lady Blue
"Grinders" (AdultTime)
Starring Charlotte Sins, Lilly Bell, Lucky Fate, Maya Woulfe, Nathan Bronson, Robby Apples, Tommy Pistol, Vanna Bardot, Vicki Chase
Director — Ricky Greenwood
"Her Guilty Secret" (PureTaboo/AdultTime)
Starring Kenzie Taylor, Johnny Goodluck, Bella Blu
"Introspection" (EvilAngel)
Starring Tiffany Tatum, Scarlett Jones, Cherry Kiss, Natalie Mars, Amirah Adara, Zazie Skymm, Eden Ivy, Sharon White, Tiffany Rousso, Kiara Lord, Vince Carter, Michael Chapman, Candy Alexa, Nataly Gold, Kira Queen, Kitana Lure, Kitty Lovedream, Dolly Diore, Yves Morgan, Rachel Adjani, Bo Sinn, Lizi Vogue, Lina Luxa, Kittina Clairette, Stacy Bloom, Jack Rippher, Jenny Doll, Maryjane NM, Mimi Cica, Amy Douxxx, Bonnie Dolce, Catherine Knight, Irina Cage
"Kink School: An Advanced Guide To BDSM" (SevereSexFilms)
Starring Bettie Bondage, Lena Starr, Pet
"Maddy May's Mayhem" (Evil Angel)
Starring Emma Rose, Maddy May
Director — Chris Streams
"My Favorite Cameltonian" (AltErotic)
Starring Marica Hase, Adalind Gray, Misha Montana, Fallon West, Lady Lazarus, Santana Red, Sabien DeMonia, Kennedy Rose, Sully Savage, Ruby Reynolds
Director — Ivan E. Rection
"Nothing to Lose" (PureTaboo/AdultTime)
Starring Lucky Fate, Scarlett Mae
"Pink" (EvilAngel)
Starring Ian Scott, Venera Maxima, Eden Ivy, Charlie Dean, Kitana Montana, Jolee Love, Megan Inky, Juan Lucho, Tommy Cabrio, Bo Sinn, Larry Steele
Director — Proxy Paige
"Sarina and Robins Wedding Orgy" (Amateur Productions)
Starring Sarina Havok, Robin Coffins, Janie Blade, Hexy Nicky and Alice Ivy
Director — Sarina Havok and Robin Coffins
"Shadowbanned" (BurningAngel)
Starring Maddy May, Joanna Angel, Codey Steele, Rocky Emerson, Jessie Lee
Director — Joanna Angel
"Sinn & Drake's Strap On Threesomes" (Sinn Sage Studios)
Starring Sinn Sage, Drake Man'O'War, Charlotte Sartre, Summer Hart, Kaiia Eve, Lita Lecherous
"Tik Tok Cuck" (SevereSexFilms)
Starring Vanessa Vega, Dillon Diaz, Fluffy
"Up Uranus" (Tara Emory)
Starring Tara Emory, Tiffany Starr, Mandy Mitchell
Director — Tara Emory
"What Could Go Wrong?" (EvilAngel)
Starring Cherry Kiss, Proxy Paige, Eden Ivy, Freddy Gong, Charlie Dean, Megan Inky, Darrell Deeps, Morea Black, Bo Sinn, Michael Fly, Mark Longwood
Director — Proxy Paige
"Whorrifier Part II" (Sonia Harcourt)
Starring Sonia Harcourt, Erik Todd
Best Premium Social Media Star
Atzula Storm
Ariel Demure
Aurora Skye
Bailey Eilish
Bea York
Brenna Sparks
CeCe LaRue
Chelsea Marie
Connie Perignon
Helene Boudreau
Jason Ellis
Kato
Kellie Panther
Kenzie Reeves
Korra Del Rio
Larkin Love
Leah Michelle
Little Pixie Kitten
Marica Hase
May
Romi Chase
Sabien Demonia
Saturn / w33dhead
Best Male Performer of the Year
Austin Spears
Chris Cock
Damion Dayski
Dante Colle
Davin Strong
Logan Xander
Gunnar Stone
Lucky Fate
Mike Hell
Nathan Bronson
Oliver Flynn
Small Hands
Zac Wild
Zach West
Zaddy 2X
Best Female Performer of the Year
Avalon Mira
Avery Jane
Cassidy Luxe
Chantal Danielle
Charlotte Sartre
Connie Perignon
Daisy Ducati
Demi Morgan
Xwife Karen
Keisha Grey
Kira Noir
Kitana Montana
Kitty Core
Lauren Phillips
Maddy May
Michelle Masque
Misha Montana
Payton Preslee
Raven Vice
Romi Rain
Sabien Demonia
Sarah Jessie
Siri Dahl
Stevie moon
Summer Vixen
TigerLilly
Valerica Steele
Vanessa Vega
Best Premium Social Media Site
Fansly
fanvue
InkedGirl
IsMyGirl
JustForFans
LoyalFans
OnlyFans
Sheer
Best AltPorn Membership Site
AdultTime (PureTaboo, BurningAngel)
AltErotic
BlueBlood (BarelyEvil, GothicSluts, EroticFandom)
CosplayErotica
EvilAngel
Evolved Fights
Hentaied
Inked Vixens
InkedPOV
KendraJames
MackMovies
StylErotica
Taylor Nicole
TeamSkeet (ExxxtraSmall)
Best Webcam Site for Alternative Cams
BongaCams
CAM4
CamSoda
Chaturbate
Cherry.tv
ePlay
ImLive
LiveJasmin
MyFreeCams
Streamate
StripChat