VENUS star Little Caprice offers plenty of female power in her new movie. In the steamy threesome scene, she has fun with Clea Gaultier and Liya Silver. Both of them, like Little Caprice, have been honored with the prestigious AVN Awards in the categories for foreign stars.
The high-profile get-together of three AVN Awards stars from Europe features Clea Gaultier, Liya Silver, and Little Caprice. Gaultier won the 2021 Foreign Female Performer of the Year category, while Liya Silver took home the 2020 AVN Award for Best New Foreign Starlet.
The highly anticipated all-girl threesome scene, co-produced and directed by Little Caprice's partner and husband Marcello Bravo for their series »Caprice Divas,« is available at LittleCaprice-Dreams.com.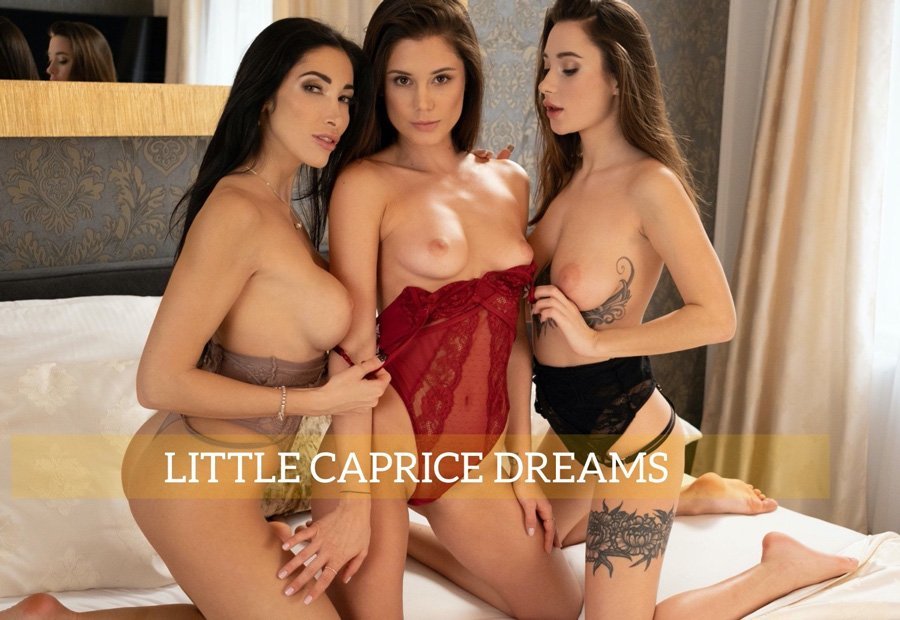 The shooting took place in a classic apartment in Vienna, a setting that Little Caprice and Marcello Bravo love for their films. Little Caprice, as her fans know, has Czech roots. Gaultier who is French and Silver who is from Kyrgyzstan transform the threesome into a truly international superstar production.
Little Caprice and Liya Silver have worked together before. They starred in »Tender Kiss,« which won the 2021 AVN Award for Best Foreign Filmed All-Girl Sex Scene. The two sexy performers also shared a threesome once before, back then with Little Caprice's husband Marcello.
Clea Gaultier, however, was a new partner for Little Caprice. »We didn't work before but we have planned it for a long time. It was a great surprise she won the award currently, so we were three award winners in one scene, which is just awesome.«
The girls' dress for the scene was chosen by Little Caprice, who, along with Marcello, also works on the details in the background of the couple's productions for LittleCapriceDreams.com. She added, »I chose the outfits after I knew the location so it's matching. The most memorable is for me the shot from up. It's kind of special and we did a similar one in the scene with Liya, which went great. I love that it is kind of our signature already.«
Clearly, the power couple is still having fun working together. Little Caprice praised her husband's work as the director. »And yes Marcello did a great job. He directed and prepared all for the shoot and edited the scene with amazing music he chose.«
Little Caprice is convinced that the scene will be well received by her fans. »And the result? I'm more than happy with it! We had really great chemistry, a lot of fun and we all loved to work with each other, so I'm sure this is one of the top scenes on LittleCaprice-Dreams.«
The trailer for the film can be found here.