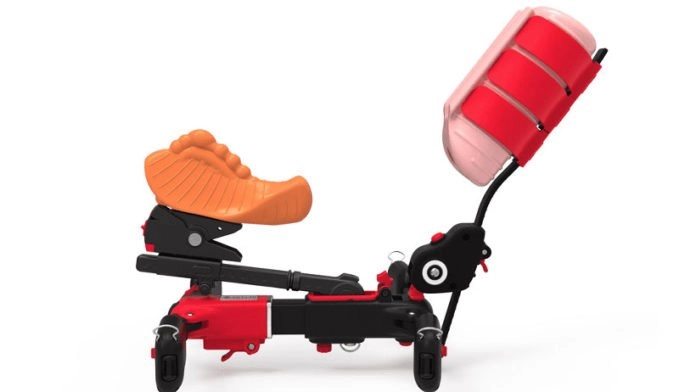 An armchair-sized sex toy reminiscent of Salvador Dali's feverish dream paintings, toys with fur extensions and silicone support sleeves for men with erectile dysfunction: This year's AVN Novelty showcases curious innovations and new developments. Once again it is evident how creative sextoy manufacturers have become in order to tap into the multi-billion dollar market for sex toys.
Like VENUS in Germany, the AVN Novelty Expo in the USA is a Mecca for everyone interested in new products on the adult market. In addition to the latest trends and exciting innovations from market leaders and start-ups, there are always exhibitors with unconventional, sometimes bizarre concepts.
Is this art or can it be inserted?
For example, the room-filling product by the Chinese manufacturer Beijing Telezone. The device can be used by both men and women and has a rather striking design.
This potentially exceptionally sophisticated device is likely to intimidate men and women alike. While the saddle-like sitting toy vibrates and all in all could also resemble a made-up organ, there is a gigantic stroker at the top of the toy, which can move up and down independently.
The device is sure to be an eye-catcher. Curious questions from unsuspecting visitors and guests could simply be countered by owners of the toy by claiming that the piece is contemporary art.
The timeless sensuality of fur
The products by Touch of Fur are also rather unusual. The sextoy company furnishes its silicone and metal anal plugs with fur tails. These come from rabbits and foxes and are removable for cleaning.
The manufacturer sells his products that are also available in different colors exclusively to retailers. You can find more information on the website of Touch of Fur.
Step back, Viagra: Here comes the supportive power of TPE
Customers with erectile dysfunction are often limited to questionable products whose effectiveness and safety is often questionable. Nanciland Innovations, on the other hand, sells neither pills nor tinctures, but a simple silicone coating called Stealth Shaft Support, which is supposed to discreetly support a flaccid penis during intercourse and masturbation.
The TPE cover can be thought of like a condom that is open towards the glans and the lower shaft. It is available in four colors and skin tones and comes in two sizes.
Nanciland's founder Nanci Smith comments on her little companion: »We wanted to create something that would blend in with the penis and ease any stigma.«
Nanciland, based in Shreveport, California, promises that its product will enable semi-erect, but also completely flaccid penises to truly penetrate during intercourse.
On the website, the company writes: »Our penetration toy is designed to be secure. It hugs your member comfortably to ensure there is no slippage. The secret of the Stealth Shaft Support™ is our support strip. A material that is sturdy enough to aid in full penetration yet pliable enough to bend with your movements.«
This innovative product is scheduled to be available in July. For more information, please click here.