World Wide Web — Brittany Wilson was recently a special guest of Kuldrin's Krypt video podcast. Wilson is brand manager of The Dungeon Store, a curated collection of BDSM gear, and Split Peaches, a hand-poured line of body safe, silicone pleasure products. She came on air to discuss products offered by the companies she works with.
Kuldrin's Krypt is hosted by Master Kuldrin and his partner Mayfair, where they use Kuldrin's years of experience in professional psychology and their combined expertise in BDSM to dispel myths, eliminate stereotypes, and answer questions about BDSM.
"Our roots are definitely in violet wands and electro play," Wilson explained about The Dungeon Store. "We have a very robust electro line… I'm a big nerd, as is the founder, so we sell a ton of books, especially non-fiction… We've been doing events for 20 years."
Wilson, Kuldrin and Mayfair discussed some of the one of a kind products, such as single tail whips, floggers and paddles made for The Dungeon Store, by skilled crafters in the American BDSM scene.
"I like to support kinky people making kinky products," said Master Kuldrin approvingly. "We need to be self-sufficient and support each other." The hosts then asked more about the Split Peaches line of silicone pleasure products.
"Split peaches is a body safe, hand poured, platinum silicone line, with an emphasis towards whimsical shapes and industrial shapes… All of them come in multiple sizes. We cater to size queens, but there are also smaller sizes… We also have different densities."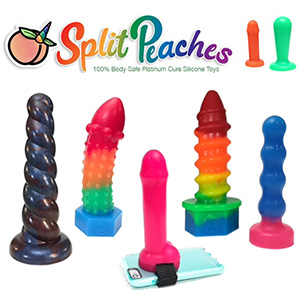 Mayfair and Kuldrin were intrigued about the POVie Stick, a Split Peaches dildo that attaches to a mobile phone for a video close up of insertion.
"It's a strap on for your cell phone. I saw that, and I'm like, 'I don't think I've ever seen one of those before,'" said Kuldrin.
"I'm sure you haven't, and I will tell you it is very popular among two groups of consumers," Wilson pointed out with a grin. "Cam girls, and military wives!"
Master Kuldrin and Mayfair stream live the first and third Sunday of the month at Noon Pacific Time. The full video episode is on YouTube at https://youtu.be/orc3S-7ckZA. To listen to the podcast, and find more info on the show, go to https://kuldrinskrypt.com.
The Dungeon Store & Split Peaches will have a booth together at Splash Takeovers in Fort Lauderdale, Florida, September 22-25. Visit https://splashtakeovers.com/events/40837 for ticket information.
Visit http://www.SplitPeaches.com to shop the many colors and sizes of body safe silicone pleasure products from Split Peaches and check out their affiliate program.
Visit http://www.TheDungeonStore.com to find the latest from The Dungeon Store and sign up for their monthly newsletter.